Upated: To let you know more about the posibility to enter into India smartphone market and the competition of India mobile phone brands, we have analyzed the India smartphone market and mobile handsets usage and finally make an India mobile price list as selling and buying advice.
Presently, there is a large amount of Chinese smartphone manufactures like Xiaomi, Honor, Gionee, Meizu, Lenovo, Coolpad, One Plus and others entering into India market. Besides mobile phone brandable manufactures, mobile phone supply chain manufactures are also preparing and waiting for a chance to edge in India market. To some extent, India is taking the old path of exchanging technology with market and expecting to shift supply chain with an extensive market volume that China has taken before. See India Will Be the Next Big Growth Smartphone Country.
Walking on the street of New Delhi, India, among thousands of advertising boards, we can find Chinese smartphone manufactures like VIVO, OPPO, Gionee and some others. However, compared to the influence of Samsung, Sony and local brands like Micromax, these Chinese brands still seems weak. As a matter of fact, in 2015, it seems that all the main China smartphone manufactures have been entered into the India smartphone market, but few performs well yet.
It is worthy to mention that although rushing into India smartphone market has a tremendous influence on Chinese mobile industry, India market are far from conquering by China smartphone manufactures. According to IDC data, in the 3rd season of 2015, smart phone shipment quantity in India is 28.3 million, expand 21.4 percent from a year earlier. Samsung is ranking is the first with a market share of 24%. Local brands like Micromax, Intex and Lava are ranking in the 2nd, 4th and 5th place. Relying on better shipment quantity of Motorola, Lenovo is the only Chinese smartphone manufacture in top 5 with a market share of 9.5%.
Too lucrative to ignore
On 20th, January, Letv officially entered into the India market with the launching the super mobile conference. Presently, there is a large amount of Chinese mobile phone manufactures like Xiaomi, Honor, Gionee, Meizu, Lenovo, Coolpad, One Plus and others entering into India market.
Due to its bountiful investment to India offline resources recently, Vivo advertising boards are the most frequently seeing among Chinese mobile brands. Nowadays, vivo has built up factories in India and the first investment is 125 million CNY. It is also known that vivo also built a business system with 7,000 staff members and 10,000 retail dealers. Before then, it also made huge investment to sponsor super cricket league both in 2016 and 2017. As one of the Chinese mobile manufactures who values socialization resources mostly, vivo apparently hope to transparent its domestic experience to this emerging market.
However, not all the manufactures have such strong capital strength. Now offline resource is still a misery to Chinese manufactures. In local India, couple shops in retail industry are everywhere and they lack concatenate electronic market in large-scale. According to GFK statistics, there are about 500 thousand mobile phone shops located scattered and in small size. To protect the retail industry, government is strict on resource investment.
Meanwhile, it is hard to find a national contractor in the incompact federalism country with 28 states, 6 united annexed territories of India that each state has different law, tax, culture and policy. With such a situation, even to Gionee, who has entered into India market in early times and taken the leading position will manage India in 8 sections.
D-Phone, who has announced to enter into India in the end of 2015, now is searching cooperation with the local enterprise Spice to open the retail market in India. Learned from the journalist of Financial Report of the 21st Century, due to the disagree of the procurement price on Spice, now there are 5 senior executives have entered and garrison in Spice. Lei Tao, vice-president and India business CEO of D-Phone stated that there are difficulties in building up India market resources countrywide. D-Phone is taking a step of "observation period".
India market is truly an attractive cake with a population of 1.2 billion people and in such a young country, 0.6 billion people is younger than 25 and 0.7 billion people is younger than 30. According to the data from the subordinate industry of TrendForce, Topology Research Institute, in 2015, smart phone shipment quantity in India is 71 million units and it takes 25% of the entire shipment. The smart phone shipment quantity is still taking a low percentage. In some impoverished states like Bihar the popularizing rate of mobiles is 54% only. Local mobile phone industry chain is weak and lack strong partners. Local brands have little research and development and they rely on Chinese ODM manufactures. They have no definite leading opponents and they are just taking transformation from trade pattern to production pattern. On china mobile internet, India is still a world of 3G network with only a few operators working on 4G networks.
With the improvement of basic facilities and the popularization of smart phones, we can foresee that India will have an outburst on smart phone market. According to the data of TrendForce, in the following two years, India smart phone market is going to have a 35.9% Compound Annual Growth Rate. India has become the next battleground for mobile phone manufactures.
Behind the competition, there is the support of the whole industry chain. To the mobile phone market which increase fastest in this world, the next procedure is to build up an ecological system of parts manufacturing. In this way, parts supply chain will turn from china to India.
Therefore, except from mobile phone manufactures, mobile phone supply chain is also in preparation to the next battleground. Among the supply chain manufactures to India recently, more than 100 manufactures are going to New Dehli for researching. Many manufactures are stating that they are preparing for the coming 2 to 3 years.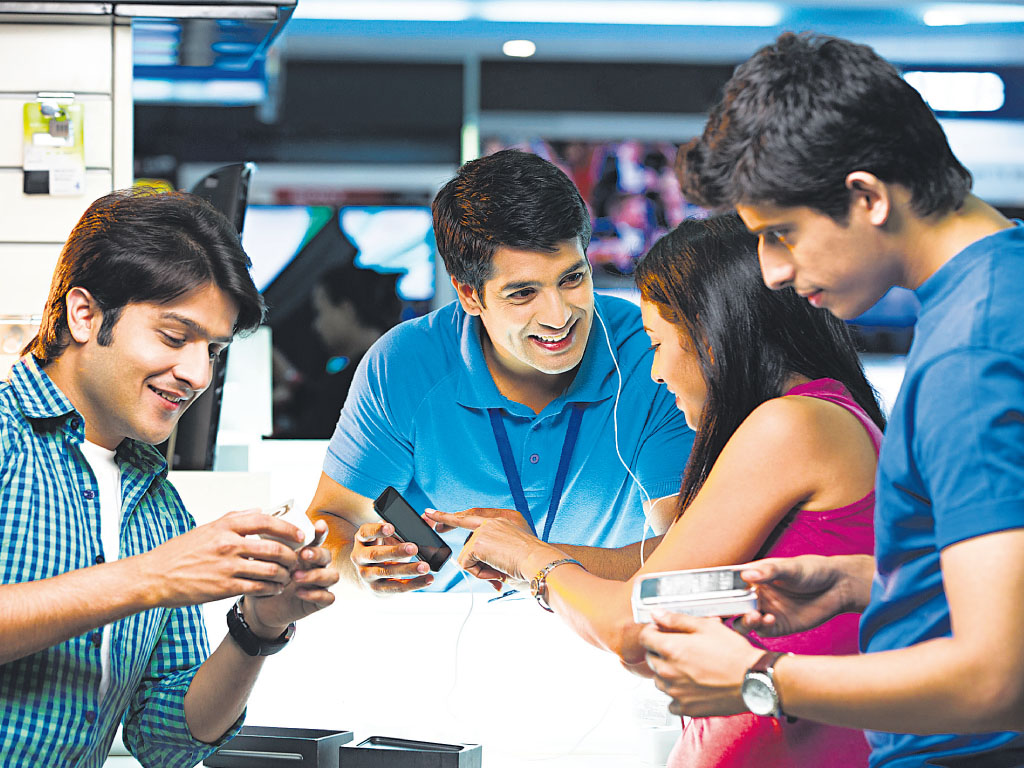 Smartphone industry Chain moves to India
Different from the word "Made in China", the "make" in "Make in India" is taking an active voice. Clearly, India is hoping to learn lessons from china. They expect that "Make in India" has an original technology not only with inferior quality and inferior processing.
The India government is planning to achieve electronic products zero import on 2020 by the promoting of domestic electronics product manufacturing industry development. To encourage domestic industrial development, in March, 2015, the India government increased the import rate on mobile devices from 6% to 12.5%. Ajay Kumar, secretary of india government Electronics and information science and technology, said on the 1st Sino-India mobile phone summit forum that the tax may increase to 17% in the future.
Relatively speaking, the tax for SKD is only 1%. This is going to make more and more to choose local producing. "Make in India" has also became the next aim for Chinese mobile phone industry manufactures.
At present, Foxconn has already built up factories in Andhra Pradesh with having its first clients of xiaomi and InFocus. Shanghai ODM manufacture YUDE indicates that in April, 2016, Mumbai will also start SKD assembling with a capacity of 1 billion. Jiangxi Helitai technology, LCD and touch screen manufacture is planning to build a manufacturing factory in india within 3 to 5 years. At the same time, india mobile phone association predicates that in 2019, india will produce 0.5 billion smart phones.
As the biggest local mobile phone manufactures in india, Vikas. Jane, one of the Micromax founders reveals that Micromax plans to realize a complete local manufacture in 2018: "even though there has no mobile phone industrial chain, we are trying our best to attract Chinese supply chain comprise to settle in India". With more and more manufacturers in the Chinese mobile phone supply chain settling in india, local brands have more choices. The product line manager of Micromax told to the journalist of Financial Report of the 21st Century that in the future the technological content of products would be the main factors for them to select supply manufactures, just like battery power consumption, technology and the performance of the screen.
Coolpad group, cooperating with the local comprise Videocon on localization manufacturing, has launched its first localized mobile phone recently. The vice-president and overseas business principal Luo Zhongsheng introduced that SKD is the first step in cooperation with local comprises, and then they would like to set R&D center in india to realize Design in India.
He believes that no matter how the industry chain shifts, "Make in India" is a leading method. The present "making in india" which is based on invite investment is definitely sure to step into the real "Make in India". To some extent, India is taking the old path of exchanging technology with market and expecting to shift supply chain with an extensive market volume that China has taken before.
With an accumulation of 20 years, Chinese mobile phone industry has formed a completed industry chain in Pearl River Delta with research and development, manufacture and marketing presently. Many domestic mobile phone supply chain indicate that the mobile phone industry is long and complicated; it is hard to shift in short time and the industry chain will still stay in china in the following ten years.
But it can be foreseen that in the future, India industry will join more in the detailed industry chain and control more and more initiative thus the importance of Chinese ODM manufactures will become less. Of course, on the other side, the shift of industry chain is a reflect of advanced manufacturing capacity substantially. There is a compact relevance between the transferring method and the national economic development stage. Take example of the global household appliances industry, from America to Europe and then to Japan, south Korean and china are leading in the household appliances manufacturing concern. However, although that America has dropped out from the manufacture chain, but it specialized in standard and technology and does not dropped out the industry chain. The process of industry shifts in japan, south Korean and Taiwan are the same. It realized the upgrading during the shift. Surely, this is relatively a fine vision according to the industry chain relationship between China and India.
However, does China will lose the first position of world's largest manufacturing base? We don't think so, see Mobile Phone OEMs Migrate from China to India, does China Lose the Position of Biggest Smartphone OEMs Center? And China might will follow the steps of America, Japan, South Korea, to become more innovative in smartphone and technology fields.
At last, we list most of the smartphone brands in India market.
Smartphone Brands List in India
A & K

Beetel

Celkon

Datawind

Fly

Gateway

Acer

BlackBerry

Champion

Dell

Forme

Gionee

Adcom

Blu

Cheers

Digiflip

Fujitsu

Good One

Airtyme

BQ

Chilli

Digimac

Alcatel

BSNL

Coolpad

Apple

Archos

Asus

Atom

Haier

iBall

Jivi

Karbonn

Lava

Maxx

HCL

iberry

Josh

Kenxinda

LeEco

Meizu

Hitech

I-Berry

Kult

Lemon

Micromax

HP

Idea

Lenovo

Microsoft

HPL

InFocus

LG

Mitashi

HSL

Intex

Lima

Motorola

HTC

I-Smart

Lyf

MSI

Huawei

Mtech

MTS

Nexian

Obi

Panasonic

QiKU

Rage

Salora

Nextbit

OnePlus

Penta

Reliance

Samsung

Nokia

Onida

Pepsi

Ringing

Sansui

Nubia

Oppo

Phicomm

Sony

Philips

Spice

Swipe

Swiss

TCL

Usha

Vaio

Wespro

Xiaomi

Yota

Toshiba

Videocon

Wham

Xolo

Yu

Trio

Vivo

Wickedleak

Vodafone

Wynncom

Vox

Zen

Zopo

ZTE

Zync
Want to know smartphone market analysises about more countries? Please see our China mobile price list, UK mobile price list, US mobile price list and South Africa mobile price list.